Curriculum
Leaders and governors have have developed a broad and rich curriculum, which is ambitious for all pupils. – Ofsted, November 2022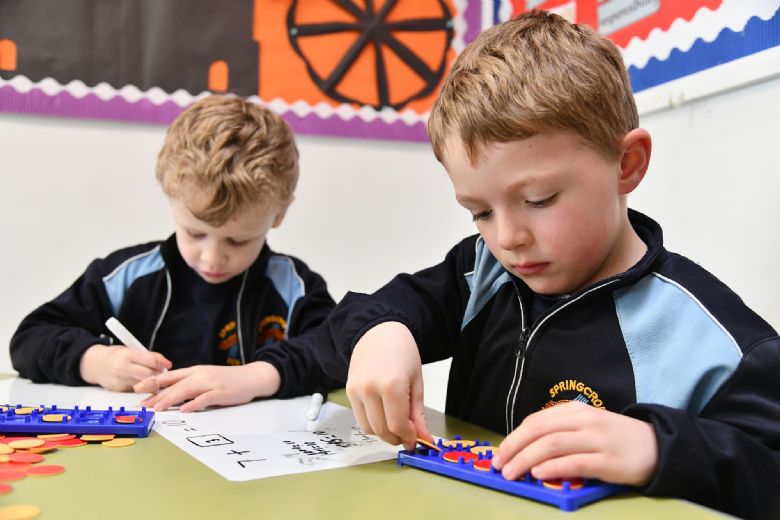 Our Vision:
Why? We believe in preparing our children for life in the modern world, becoming resilient adults with integrity, radiating creativity, able to take responsibility for their actions, and shape their future.
How? We have a holistic philosophy to each child through providing a truly broad and balanced curriculum, nurturing creativity and one that fosters independence in both learning and thought.
What? In partnership with our parents and the community we serve, we provide high quality learning of the national curriculum subjects, alongside encouraging children to develop their individual talents and gifts through both curricular and extra-curricular experiences.
Curriculum Intent:
At Springcroft, our curriculum prepares our children for a constantly changing world, giving them the necessary skills to both appreciate and contribute to British society and lead happy, healthy lives. Our Values; Resilience, Creativity, Integrity and Collective Responsibility, are quite simply 'The way we do things around here' and they form our foundation and provide the justification of our behaviours in everything we do
Our Curriculum Design
General principles
Our curriculum will give children the opportunity to:
understand the purpose and value of their learning and see its relevance to their past, present and future
develop and demonstrate their creativity
experience the challenge and enjoyment of learning
develop a rich and deep subject knowledge
see clear links between different aspects of their learning
At Springcroft Primary School, we believe that all schools should be a safe, exciting, challenging and wonderful place where children and staff want to learn and develop, and extend thus learning to enable all to flourish beyond the classroom. Through our values, we believe in preparing our children for life in the modern world, becoming resilient adults with integrity, radiating creativity, able to take responsibility for their actions, and shape their future and foster a love of lifelong learning. In partnership with our parents, our children are encouraged to be curious, use thinking skills to innovate, be creative and problem solve and to develop the first understandings of employment and entrepreneurship.
Our Curriculum Structure (Implementation) is built around consistent drivers for learning:
Engage
hooks learners in with a memorable experience
set the scene and provide the context
ask questions to provoke thought and interest
use interesting starting points to spark children's curiosity
Develop
teach knowledge to provide depth of understanding
demonstrate new skills and allow time for consolidation
provide creative opportunities for making and doing
deliver reading, writing and talk across the curriculum
Innovate
provide imaginative scenarios for creative thinking
enable and assess the application of previously learned skills
encourage enterprise and independent thinking
work in groups and independently to solve problems
Express
encourage reflective talk by asking questions
provide opportunities for shared evaluation
celebrate success
identify next steps for learning
With a successful leadership model embedded in the school, all staff are committed to their role in ensuring our children make progress and achieve. Our curriculum is carefully crafted to ensure all children have equal access to all areas of the curriculum, enrichment activities and extra-curricular learning too. We have devised our curriculum to ensure breadth and balance for all.
SMSC
Our curriculum will give children the opportunity to:
Spiritual - Explore beliefs, experience and faiths, feelings and values; enjoy learning about oneself, others and the surrounding world; use imagination and creativity and reflect on experiences
Moral - Recognise right and wrong and respect the law; understand consequences; investigate moral and ethical issues and offer reasoned views
Social - Use a range of social skills to participate in the local community and beyond; appreciate diverse viewpoints; participate, volunteer and cooperate; resolve conflict
Cultural - Appreciate cultural influences; appreciate the role of Britain's parliamentary system; participate in culture opportunities; understand, accept, respect and celebrate diversity
Rule of law - Learn that all people and institutions are subject to and accountable for their actions and behaviour
Individual liberty - Be free to express views or ideas
Tolerance and respect - To respect and tolerate the opinions or behaviour of others
Throughout Springcroft Primary School, individuality is actively encouraged and celebrated. Pupils are encouraged to make their own decisions about all aspects of school life based on their own personal interests, strengths and values. We believe that our curriculum is inspiring; encouraging pupils to quickly develop a love of learning and to develop a sense of wonder. We learn from those who think differently to ourselves, and foster challenge of the status quo. Pupils have a strong sense of right and wrong which underpins the outstanding behaviour evident in the school. All stakeholders are proud to be part of our school and enthusiastically join in with teaching learning, school performances and extra curricular activities.
Children understand that they can bring change to make the world a better place and Be part of a system where everyone plays an equal part.
Well - Being
Our curriculum will give children the opportunity to:
develop self-esteem and confidence in their abilities
learn in a peaceful and supportive environment
learn how to respect themselves and others
reflect and think mindfully about their learning
recognise that people are good at different things
All children, young people and adults have their ups and downs and experience all kinds of thoughts and feelings as they move through life.
There are many different kinds of problems and worries that get in the way of us all growing with enjoyment, happiness and confidence; this is what we mean by emotional well-being.
Problems vary in how serious they can be. For some children and young people the problems may pass quickly, for others their everyday lives are greatly affected and they may need extra help over and above what can ordinarily be provided by their families, relatives and friends.
At Springcroft, we use Hope Project; a school emotional wellbeing service which supports children, young people and their families. The project offers signposting, self-help guidance, early intervention and also promotes a whole school approach for emotional wellbeing.
A child or young person may need someone to talk to about emotional, behavioural, social difficulties or need some advice. Hope is aiming to provide this support.
At our school there is a team who support children and young people, which includes the Head Teacher, Special Education Needs Coordinator (SENDCO), Well-being Lead and Year 6 Pupil Hope Mentors. There will be other people that help the service such as School Nurse, Parent or Family Support Worker and Child & Adolescent Mental Health Service (CAMHS). The number of sessions required depends on the problem. Typically, 5-8 sessions are enough to resolve difficulties in the early stage. The sessions will be reviewed and any decisions made will be shared and agreed with the people concerned. Drop-ins are also be available for parents and young people for one-off advice.
All information relating to support sessions are protected and treated with the greatest respect. As this is a school service, the Head Teacher and Class Teacher are normally consulted for further information relating to the child/young person's difficulties, unless permission is refused for this contact. Parent/carers with parental responsibility will be informed of the service provided to their child/young person. At times, and in exceptional circumstances, it may be necessary for certain information to be shared with other agencies, for example, if there are child safety or safeguarding concerns.
Show resilience and develop their self esteem so that they recognise that people are good at different things.
Pupil Voice
Our curriculum will give children the opportunity to:
contribute to planning their own learning
make a positive contribution to the school and local community
take part in age-appropriate discussions
express their opinions on a range of different topics and issues
make choices about things that are important to them
The School council is made up of two children from each year group in Key Stage One and Key Stage Two. They are elected at the beginning of each school year after presenting an election speech to the rest of their class. We have also formed links with our local Rotary Club. This has fostered an exciting and practical approach to supporting the citizenship element to the national curriculum - allowing children to enjoy and boost their confidence and self-esteem, and develop and understanding of how their actions can impact on others.
The School Council meet once a fortnight to discuss the cares and concerns from the children across the school. These include many aspects of school life, including school rules, how to improve our school environment and pupil activities.
All the representatives report back to their class after the meetings to let everyone know about any decisions that have been made.
Pedagogy
Our curriculum will be taught through a pedagogy that:
excites, promotes and sustains children's interest
enables and fosters children's natural curiosity
promotes problem solving, creativity and communication
promotes innovation and entrepreneurialism
enables children to reflect on and evaluate their learning
The aim of our curriculum is to provide opportunities for children to develop as independent, confident, successful learners with high aspirations who know how to make a positive contribution to their community and the wider society. There is a high focus on developing children's moral, spiritual, social and cultural understanding. Our broad and balanced curriculum has been carefully designed and mapped out to ensure coverage and progression. It has a project-based, thematic approach and provides children with a range of rich and memorable learning experiences.
Springcroft Primary School employs a consistent pedagogic method across the curriculum starting with valued prior knowledge, the experiences children bring to the classroom and making personal connections.
Our pedagogy is based on four distinct stages. These stages are: Engage – Develop – Innovate – Express, also known as the Four Cornerstones. These four distinct stages give clear direction for both teaching and learning. While the Four Cornerstones provide us with a basis on which to deliver the curriculum, the beauty is that the finer details of content can be adapted to meet our school's context and any research they have undertaken.
Personal achievement whether it be in academic, artistic, sporting or spiritual areas, and recognising each child's potential, strengths and areas for extra support through an individualised approach, are central to our approach to teaching and learning. This will be dependent on our commitment to excellence in instruction, the professional development of teaching staff, strong partnerships with families, assessment for teaching, meeting the needs of every child in an inclusive way and a reflective and supportive approach to evaluating, reviewing and researching the performance of both students and staff. We base our work on the joy of the intrinsic reward that comes from achievement and mastery, and from participating in enjoyable, varied, exciting and challenging projects and learning experiences.
Enrichment
We will enrich our curriculum by:
providing on and off-site subject or topic related activities such as a music curriculum specialist teacher, specialist instrumental teachers, Survival School specific teachers, etc
offering opportunities for children to learn outdoors
developing partnerships with external providers that extend children's opportunities for learning
holding specialist curriculum days or weeks
using quality resources in and out of the classroom
In every class, every term, we begin with a memorable experience that stimulates children's curiosity and prepares them for a new theme. These memorable experiences often involve an educational visit out of school or a visitor coming into school to share their expertise with the children. We supplement this with residential stays from Year 2 upwards, with children in upper Key Stage 2 having the opportunity to visit Europe for a week's residential trip.
Every academic year, children in Key Stage 2 visit a local theatre to watch a performance one of the literary classics. Additionally, the whole school undertakes learning on a Shakespeare novel and we welcome a theatre group into school to perform and participate in drama workshops.
Subject leaders have a clear understanding of what is working well in their subjects. They have thought carefully about what pupils will learn and when. From the early years through to Year 6, leaders have planned opportunities to revisit key concepts.
For example, in art and design, when pupils explore collage, they apply their knowledge of techniques used by artists such as Picasso. This prompts them to use and embed what they have learned before, and to make connections with new learning. It also ensures that pupils' knowledge and skills build over time. – Ofsted, November 2022
Long term Overview
Springcroft Long Term Basic Overview_2022_2023
Subject Specific Vocabulary
Leaders provide staff with regular training, so they know how to teach different subjects effectively. As a result, staff are confident in delivering the curriculum across a range of subjects. – Ofsted, November 2022
At Springcroft Primary School, all class teachers are responsible for providing a curriculum that is suitable for all pupils in the class, including those with Special Educational Needs or Disabilities (SEND) with support from the SENCO. We have high expectations for all pupils and are committed to ensuring our curriculum complies with the Equality Act 2010 and the Special Educational Needs and Disability Regulations 2014. Our inclusion statement emphasises the importance of providing an inclusive learning environment for all pupils including those with SEND. Additional information on this can be found in our Special Education Needs Information for Parents and Equalities Policy.
Phonics
At Springcroft, Phonics is taught through Little Wandle Letters and Sounds.
The reading scheme we use at Springcroft is Collins Big Cat and Person's Phonic Bug.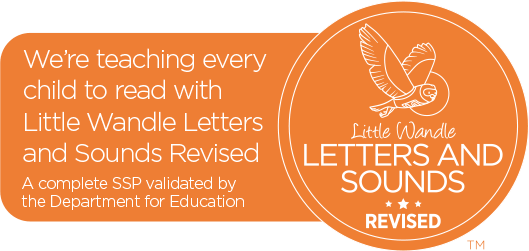 For further information on how we teach phonics, reading, grammar, punctuation and spelling, and mathematics, please click on our resources page. Here you will find a suite of resources on this page to support learning at home. Individual class overviews are available on class pages here. Should you wish to find out more information about our curriculum, or ask any questions, please do not hesitate to contact the school office.