HOPE Project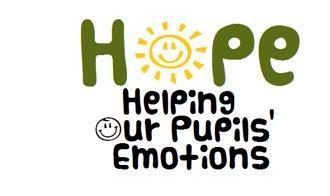 Personal development is a strength of the school. Pupils, staff and parents can access well-being support through the school's bespoke 'Helping our pupils' emotion' (HOPE) project. – Ofsted, November 2022
HOPE intro to CYP
This video is about HOPE intro to CYP
All children and young people have their ups and downs and experience all kinds of thoughts and feelings as they grow up.
There are many different kinds of problems and worries that get in the way of children and young people growing with enjoyment, happiness and confidence; this is what we mean by emotional well-being.
Problems vary in how serious they can be. For some children and young people the problems may pass quickly, for others their everyday lives are greatly affected and they may need extra help over and above what can ordinarily be provided by their families, relatives and friends.
The school's 'Helping Our Pupils' Emotions' (HOPE) project is a high priority. Pupils say there are always adults to go to if they want to talk. Pupils appreciate this support and say it makes a positive difference to their well-being. (Ofsted, November 2021)
WHAT IS THE HOPE PROJECT?
The Hope Project is a school emotional wellbeing service which supports children, young people and their families. The project offers signposting, self-help guidance, early intervention and also promotes a whole school approach for emotional wellbeing
A child or young person may need someone to talk to about emotional, behavioural, social difficulties or need some advice. Hope is aiming to provide this support.
THE KIND OF PROBLEMS HOPE CAN HELP WITH ARE:
Any aspect of family life that may be affecting your child's emotional well-being
School refusal
Bullying
Behaviour
Anxiety
Sadness
Low self-esteem
Illness
Bereavement
WHO PROVIDES THE SERVICE?
At our school there is a team who support children and young people, that includes the Head Teacher, Special Education Needs Coordinator (SENDCo), Well-being Lead and Year 6 Pupil Hope Mentors. There will be other people that help the service such as School Nurse, Parent or Family Support Worker and Child & Adolescent Mental Health Service (CAMHS).
Further support and links can be found on our Hope Resource Page.
PROVIDING A QUALITY SERVICE
We are committed to providing a quality service and consider it important to listen to the views of children, young people and families. If, for any reason a young person or parent/carer has any questions about any aspect of the service they are welcome to talk to any team member who will be happy to listen to any comments or suggestions put forward.
HOW MANY SESSIONS WILL BE NEEDED?
The number of sessions required depends on the problem. Typically, 5-8 sessions are enough to resolve difficulties in the early stage. The sessions will be reviewed and any decisions made will be shared and agreed with the people concerned.
Drop-ins are also be available for parents and young people for one-off advice.
HOW DOES A YOUNG PERSON ACCESS THE HOPE PROJECT?
Typically, a parent or member of school staff will contact the Head Teacher, SENCO or Well-being Lead with concerns, who will then co-ordinate the most appropriate person or service to help. Children can also make a self-referral using our 'Listening Ear' (children make a note of any issues they are experiencing and staff can then make arrangements to meet with the child) or through our 'Worry Monster' in EYFS & KS1.
WILL THE MEETING BE IN PRIVATE?
Meetings with children, young people and families always take place in a private room. Notes may be taken during the meeting and these are securely filed.
Information about the sessions will not be shared with other people without the parent/carer or young person's permission.
WHAT HAPPENS ONCE SUPPORT HAS BEEN OFFERED?
Appointments if and when applicable will usually be at school.
This project is optional.
RESPECTING YOUR NEEDS
If any child, young person, parent/carer has difficulty reading, understanding or hearing
information or has English as a second language; the school will endeavour to provide assistance to meet your needs.
Please let us know if you have any specific requirements.
CONFIDENTIALITY
All information relating to support sessions are protected and treated with the greatest respect. As this is a school service, the Head Teacher and Class Teacher are normally consulted for further information relating to the child/young person's difficulties, unless permission is refused for this contact.
Parent/carers with parental responsibility will be informed of the service provided to their child/young person.
At times, and in exceptional circumstances, it may be necessary for certain information to be shared with other agencies, for example, if there are child safety or safeguarding concerns.
PUPIL WELLBEING CHAMPIONS
Pupil wellbeing champions are a group of children or young people within our school environment who are dedicated to helping their peers and other students with their mental health and wellbeing.
Pupil wellbeing champions are a critical part of Springcroft Primary schools whole school approach to Mental well-being.They are children and young people who have been appointed by staff to help provide a safe, supportive environment for their peers. These wellbeing champions can provide advice and support to their peers and listen without judgement.
Pupil wellbeing champions can help reduce stigma around mental health problems within the school. They have an important role in providing support and guidance to fellow pupils, engaging with students in a relatable manner and promoting wellbeing strategies and positive relationships.
Our 2023/2024 Wellbeing Champions are Olivia K, Bella, Harrison, Izabelle, Sophie H, Nicole, Daisie, Emily, Jess, Sophie G, Lilian, Olivia W, Chloe and Emmi.
PUPIL WELLBEING CHAMPIONS HELP PEER WELLBEING
Peer support is an invaluable asset in the development of children and young people, providing guidance and ways that help them to grow emotionally, socially, and academically.
Peer support, for example providing peer pupil Wellbeing Champions, is an effective way of improving wellbeing amongst children, giving them someone who will listen when they may feel unable to go to an adult with their worries or concerns.
As well as peer listening based support effective methods of peer support include pupils helping build friendships that support the development of wellbeing. These students become the school's Wellbeing Ambassadors – they will receive training that will equip them with skills and techniques to support their peers through one-to-one support, drop-in sessions, or by sharing mental health and wellbeing strategies.
Scientific research has demonstrated that accessing the support of peers can boost resilience and wellbeing for children and young people, which is an essential component in fostering emotional health. Better resilience translates to better mental wellbeing and protects against the onset of mental health problems.
For further information on this project contact:
Emma Gleave (HLTA/Emotional Wellbeing Lead)
Springcroft Primary School
01782 394793
office@springcroft.staffs.sch.uk
Pupils are proud to attend Springcroft. Pupils learn how to keep safe. For example, they learn how to keep safe online, through Bikeability sessions and through lessons about specific mental health issues. The school's 'Helping Our Pupils' Emotions'(HOPE) project is a high priority. Pupils say there are always adults to go to if they want to talk. Pupils appreciate this support and say it makes a positive difference to their well-being. (Ofsted, November 2021