School Centred Initial Teacher Training (SCITT)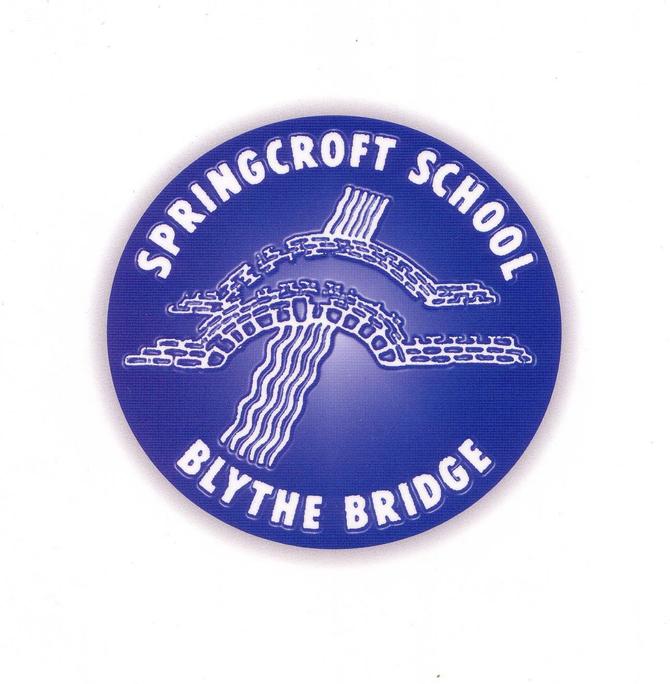 Get Into Teaching - Every Lesson Shapes A Life
This video shows teachers and pupils in the school environment.
Springcroft is privileged to work in partnership with the Keele and North Staffordshire Teacher Education (KNSTE) programme. KNSTE is a School Centred Initial Teacher Training (SCITT) Provider with a partnership of over 80 schools who work closely with Shaw Education Trust and Keele University to offer high quality teacher education. This innovative course is available as both a full and a 2 year flexible route. Associate teachers will come to us with a wealth of experience, talents and attributes. KNSTE and partnership schools seek to develop these in relation to early years, primary and special school pedagogy. Associate teachers will complete a Keele University Postgraduate or Professional Certificate alongside your Qualified Teacher Status (QTS). In 2017, KNSTE were recognised as being an 'outstanding' provider by Ofsted. They stated that, 'The partnership's strapline is 'rooted in evidence, reaching for excellence'. Leaders ensure that it does exactly that, by leaving no stone unturned in ensuring that trainees receive the high-quality training, support and challenge they require to be successful teachers.'
For further information, please visit the Keele and North Staffordshire Teacher Education website: https://knste-shaw.org.uk/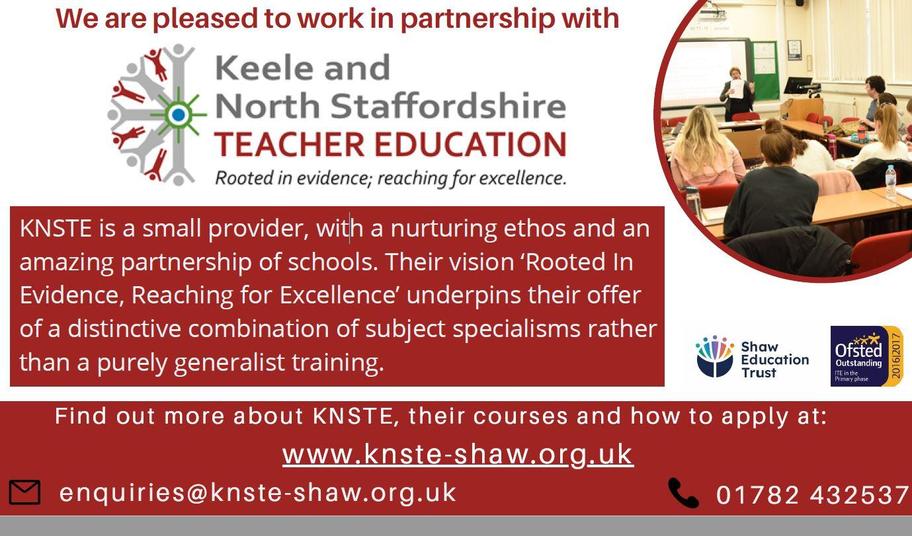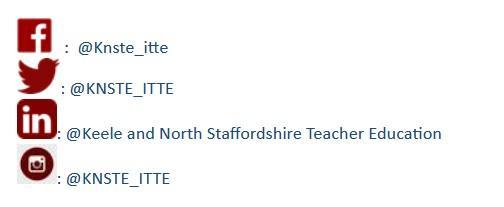 Keele and North Saffordshire are still recruiting for both our full time and flexible programmes for 22-23. If you know anyone who may be interested in joining us, please encourage them to get in touch by:
KNSTE are also excited to be recruiting for our Assessment Only route. This could be a great option for experienced graduate teachers or HLTAs without QTS. The programme will run at three points throughout the academic year and offers a fantastic opportunity to retain and develop staff by allowing them to reach their full potential. Anyone who thinks this might be an option for them can contact us by emailing ao@knste-shaw.org.uk or giving us a call on 01782 432537. We can advise them on the entry criteria and discuss next steps.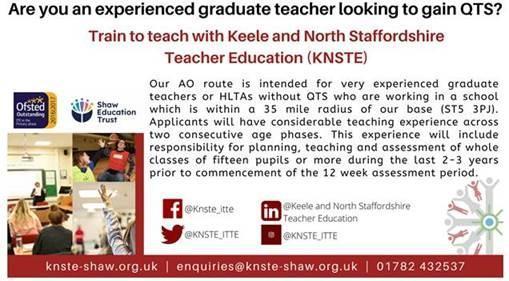 Benefits of school-led training